We've teamed up with Roomvo to give you the best visualization experience possible. Swapping out the old and experiencing the new is literally at your fingertips.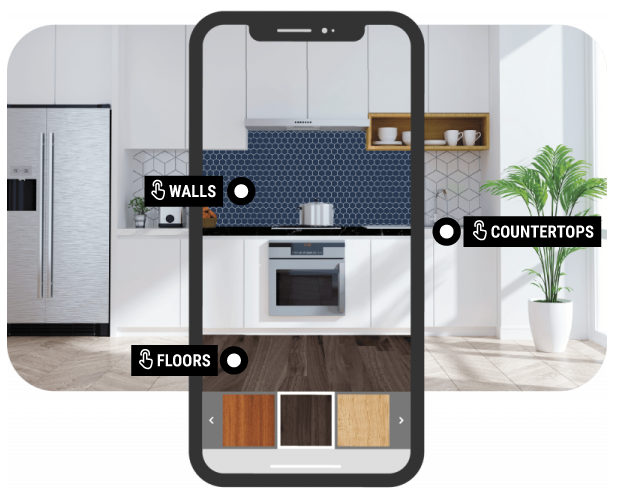 How to use our flooring visualizer app
Using our room Visualizer is easy. We've outlined the simple steps to get you started below, you'll be swapping floors in no time.
Upload a room photo or use the sample room.
You can use the flooring visualizer app on your mobile device or computer. To get started, upload a photo of a room in your home or use the sample room provided.
If you choose to upload one of your own photos, it will automatically calculate the square footage based on measurements from the image. You can also change that square footage manually if you'd like to upgrade or downgrade.
Choose your flooring product type.
The next step is to choose the type of flooring you're looking for. You can choose from the following options, each of which contains a variety of products:
Carpet

Hardwood

Vinyl

Laminate

Tile

Cork
Browse thousands of options.
With the our Floor Visualizer app, you can explore countless flooring options from the comfort of your couch or even in line at the grocery store. You can browse by species and color, which is helpful if you're looking to match existing décor, or by style and room type if you're starting with a blank slate. If you know exactly what you're looking for, search by product name to find it quickly. Once you find a flooring option that tickles your fancy, tap on it to see how it would look in your room image or in our sample living room image.
See yourself in a new space!
Once you've decided on your favorite flooring and color, see what it will look like in your house! With the Flooring Visualizer app, you can:
Actually see how the flooring will look in your home (no more guesswork)

Share your design with friends (and get their opinions)

Get help from our flooring design experts at any time during the process (we want to make sure you're satisfied!)

Get an estimate for how much your project would cost with that particular product

Get a quote so you know exactly how much it costs to have your new flooring installed
A new floor can be easier than ever to visualize and purchase!
A new floor can be easier than ever to visualize and purchase! This tool is available online and accessible from the your desktop or mobile device.
Use the visualizer tool to visualize a new floor in your room. You can choose from our wide selection of carpet, hardwood, laminate, tile, or vinyl flooring options. 
Remember to save your project so you don't lose any progress if you need to take a break. After you're done creating your dream room with our amazing visualizer tools, share it with friends and family so they can see how beautiful that new floor will look!
Fully warrantied Floor installation services in Calgary
We offer a one-year installation warranty starting from the day that flooring completion is completed. Should you have any concerns with the workmanship, our staff are on hand to inspect the installation and fix any problems. If for any reason you are unhappy with the installation, our managerial staff are committed to working with you on a solution that is to your satisfaction.
Contact our team to learn more about flooring installation services in Calgary today.